Pendakian saat ini

Tim K2 "Disaster" 2008

Hinggabulan July 2010, tercatat hanya 302 orang yang berhasil menyelesaikan pendakian K2, sangat sedikit jika dibandingkan dengan 2.700an org yg telah mencapai Everest. Setidaknya 80 orangtelah meninggal dalam percobaan pendakian. Terakhir pada tanggal 1 Agustus 2008, sekelompok pendaki hilang setelah tertimpa longsor es. Longsor ini terjadi sesaat ketika beberapa org berhasil mencapai bagian puncak K2. Longsor menghantam kelompok yg tepat berada dibawah puncak. 4 Org berhasil diselamatkan namun 11 org lainnya dinyatakan tewas. Graham Bowley menuliskan buku yang berjudul No Way Down: Life and Death on K2.Kisah ini tentang perjalanan tim pendaki 2008. Ia menuliskan bahwa tidak ada "jalan pulang" bagi mereka yang mendaki K2.
No Way Down: Life and Death on K2
Jalur Pendakian

Jalur pendakian K2

K2 memiliki beberapa jalur pendakian dan Kesulitan tersendiri pada masing-masing jalurnya.

Berikut ini Rute2 menuju puncak K2 dan Statistiknya:




Bisa dilihat dari statistik diatas, bahwa jalur East Face dan North East Face belum pernah ada yg menaklukan. Perhatikan juga jumlah summitnya = 0. Ini artinya dari bawah sampe Puncak ga akan ada puncak2 kecil yg bisa dipakai buat berlindung atau ngaso dengan aman. Istilahnya klo agan jatoh dijamin seru deh. Ga ada yg nahan2 n ga akan nabrak bebatuan. Karena akan lsg terbang sampe bawah. Begitu pula klo ada yg es longsor...Suuuuurrrr bisa lsg nyapu agan tuh. Analogi runtuhnya Balok2 es tuh sama aja kaya gedung beton yang roboh.



Rintangan K2
Abruzzi Spur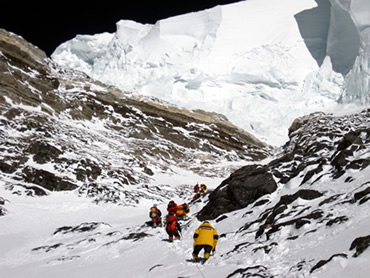 Bottleneck
Nah....buat Agan2 yang tertantang dan ngebet buat menaklukan K2, masih terbuka rintangan lain yg belum dilakukan sama pendaki2 lainnya seperti yang aye kemukakan diatas, yaitu pendakian melalui jalur EAST FACE, NORTH EAST dan pendakian di musim dingin (Winter). Bagaimana?? apakah agan tertantang buat berkenalan dengan Gunung Maut ini???