Rupanya Dubai tidak puas dengan hanya memiliki gedung tertinggi di dunia, Burj Khalifa. Mereka baru saja membuka hotel tertinggi di dunia, The JW Marriott Marquis yang menjulang setinggi 355 meter dengan 72 lantai.

The JW Marriott Marquis, Dubai memecahkan rekor hotel tertinggi di dunia versi Guinness Book of World Records. Ini adalah cabang ke-59 dari grup JW Marriott Marquis di luar Amerika Utara. Pembukaan hotel pada minggu ini dihadiri President dan CEO Marriott International Arne Sorenson.

"Dubai adalah destinasi penting untuk Marriott International, sebagai kota dengan fasilitas kelas dunia. Kami menawarkan para traveler pengalaman kemewahan tiada duanya," kata Arne seperti dilansir Emirates 24/7, Kamis (28/2/2013).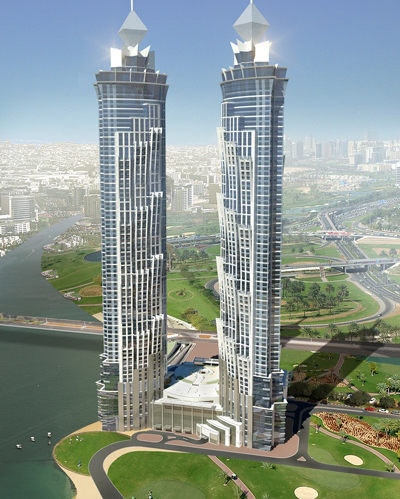 Hotel The JW Marriott Marquis Dubai
The JW Marriott Marquis Dubai membidik segmen wisata MICE (Meetings, Incentives, Conferences and Exhibitions). Hotel ini memiliki ruang indoor dan outdoor dengan luas 7.500 m2, termasuk 2 ballroom. The JW Marriott Marquis Dubai juga memiliki 9 restoran, 5 bar dan lounge.

Resto yang menjadi andalan untuk wisatawan adalah steakhouse Prime 68, resto sushi Izakaya, cocktail bar Vault. Semua ada di lantai 71 dan 72, alias di puncak gedung hotel yang pasti menawarkan pemandangan luar biasa. Hotel ini juga punya resto Rang Mahal, dengan Chef Atul Kochhar, chef asal India pertama bergelar bintang Michelin.

Untuk memanjakan tamu, The JW Marriott Marquis Dubai memiliki Saray Spa and Health Club seluas 4.000 m2. Spa yang tersedia adalah Signature Milk and Honey treatment, Arabic Coffee Awakener, dan Lemon Mint Body Polish. Di lantai 7 ada kolam renang sepanjang 30 meter dengan Aqua Poolside Bar and Grill.

"Kami gembira tempat ini akhirnya dibuka secara resmi dan kami yakin hotel ini bisa menjadi standar baru dalam bisnis hotel di kawasan ini dan dunia," kata General Manager The JW Marriott Marquis Dubai, Rupprecht Queitsch.
Fit for a king: One of the bedrooms in the new hotel - which cost upwards of �215 per person per night
Spacious: This bathroom has a large hot tub as well as a lit up walk-in shower room
First-class view: Guests can get a panoramic view of Dubai from their rooms
Everything you could need: The living room in one of the hotel suites has a large sofa, bar and flat screen TV
The Levant fountain, pictured left, in the Levant dining room which has individual seating areas, pictured right
Room with a view: One of the nine restaurants on offer in the building, which stands at 1,164 feet tall, the equivalent of 355 metres
Time for relaxation: A hammam Turkish bath - a type of steam bath - in the hotel spa
Luxurious: The large bedroom offers a modern take on the four-poster bed
Something for everyone: One of the five bars in the hotel which all have different themes
Feeling peckish? The bar area in the hotel's Thai restaurant - one of nine in the building
Brightening things up: A colourful mural on the wall of the Thai restaurant dining area